Wells-next-the-Sea RNLI Lifeboat Station houses an all-weather lifeboat and an inshore lifeboat to save lives and assist with emergencies around Wells and off the North Norfolk coast. Manned by volunteer crews, the boats are ready to launch within minutes, 24 hours a day, every day of the year. This website will tell you more about the station and give you a taste of what we do and the traditions of the lifeboat service.
Latest News
Surge tide 13/1/17
Sun 15 Jan 2017
Surge tides and stormy conditions on Friday passed without major incident in Wells though there was more serious damage just along the coast at Cley nature reserve and Salthouse. As is usual for potential flood conditions, a volunteer skeleton crew stood by the lifeboats from the early hours of Friday morning and again from mid afternoon for the evening's larger tide in case the boats were required as the boathouse may get cut off. The doors to the boathouse are opened and pinned back to prevent damage and allow the boats to be launched if necessary, allowing the tide to wash through the building. Today's planned exercise was cancelled so the crew could help clear out sand and shingle that had been dumped by the tide through the boathall.
2016 statistics
Fri 13 Jan 2017
In 2016 Wells' lifeboats launched on service 38 times; the all-weather lifeboat (ALB) 12 times and the inshore lifeboat (ILB) 26. This included 14 services to walkers and people on shore, including cut off by tide and injured requiring medical assistance, twelve to yachts and leisure craft, including machinery failure, grounding, sinking and dismasting, seven to dinghies and kayaks, including capsized, equipment failure and found adrift, two to commercial vessels, machinery failure and a liferaft found drifting.
The station is presently manned by 40 volunteers; 23 crew, 8 shore helpers and 9 admin, and supported by the Lifeboat Guild with 40 volunteer fundraisers. We are always looking out for willing hands so if you would like to join us, please get in touch.
Coxswain Tony Jordan
Monday 19 December

We are sad to learn that former Wells lifeboat Coxswain A T Jordan passed away on Monday 19 December, age 85. A Wells fisherman, well-known, much loved and highly regarded right along the Norfolk coast, Tony joined the crew in 1946, moving to 2nd Coxswain in 1971 and being appointed Coxswain in 1986. He retired in 1989 and subsequently served on the Station Branch Committee until 2004. He remained, until very recently, a familiar face at station events.
Tony's funeral will be at St Nicholas Church in Wells at 1.30pm on 29th December. Family flowers only - donations for the RNLI and St Nicholas Church c/o T Sutton, Funeral Directors, Burnt Street, Wells.
Shannon update
Mon 19 Dec 2016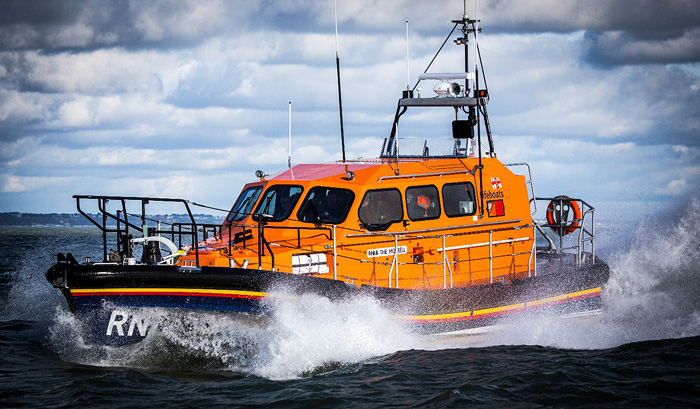 Behind-the-scenes work is now well underway for the arrival of the station's new Shannon class lifeboat. We have met with the project engineer for the new boathouse to house the new lifeboat and an environmental study, which has to be completed as part of the planning process, has commenced. We have seen some options for the design of the building and had an opportunity to feed in our own wish list. We hope to be able to set a date for an afternoon next March for a public presentation of the plans; details of the date and venue will be announced nearer the time.
The cost of the new lifeboat has been met by generous donations and legacies including a local appeal which raised £250,000 from supporters and public in the local area and across the UK. The Lifeboat Fund, a civil service charity which has long raised money for lifeboats is also supporting us, aiming to raise £1.1m towards the new boat in its 150th Anniversary Appeal.