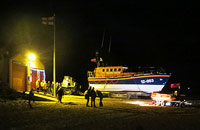 Carol Service
Join us at the boathouse for our annual Christmas carol service this Sunday 15 December, starting at 6.30pm, with Fakenham Town Band and Wells Churches Together. This event is open to all... crew, supporters and families as well as residents and visitors to the town. Refreshments will be available afterwards. If you've not been before, please be sure to dress warmly and allow time to get across the beach to the boathouse from the car park. Car parking at the Beach Road is free for the event courtesy of the Holkham Estate and crew members will be on-hand to help people across the beach if needed.
Shannon Latest
Planning permission has been granted for a new lifeboat station at Wells to house our forthcoming Shannon-class all weather lifeboat but legal work relating to the new site has taken longer than expected and we are now hoping that building work will be able to start in Spring 2020. This will take around 18 months to complete so our new Shannon-class lifeboat should then come into service late in 2021.
Funding for the new lifeboat was raised in part with a station appeal for £250,000 in 2014-15 and also by the Civil Service charity The Lifeboat Fund with its 150th Anniversary Appeal. We are hugely grateful to everyone who has donated, fund-raised, helped and supported us both locally and across the UK and even further afield. Your contribution is appreciated and will help to save lives and keep our volunteeer crews safe in the years to come. Read more about the station appeal
Exercise Launches
Our next scheduled exercise launches are shown below. You are welcome to come and watch the lifeboats launch on the beach at the front of the lifeboat house... but please ensure you keep well to one side and that children are supervised. Exercises may be cancelled or rescheduled at short notice due to operational reasons.
Thursday 28 November 17:30
Regular exercise
Sunday 29 December 09:00
Low water recovery on Holkham beach
Thursday 9 January 17:00
Regular exercise
Thursday 23 January 17:00
Regular exercise
Sunday 2 February 09:30
Regular exercise

Find us on Facebook