Welcome to Wells RNLI
Wells-next-the-Sea RNLI Lifeboat Station houses an all-weather lifeboat and an inshore lifeboat to save lives and assist with emergencies around Wells and off the North Norfolk coast. Manned by volunteer crews, the boats are ready to launch within minutes, 24 hours a day, every day of the year. This website will tell you more about the station and give you a taste of what we do and the traditions of the lifeboat service.
Recent Services
8 January 2017
13:06

The inshore lifeboat was requested to launch by Humber Coastguard after an aircraft had reported what appeared to be two oil slicks approximately 7.5 miles north west of Wells harbour with the possibility that a vessel may have sunk. The all-weather lifeboat crew were also requested to assemble as a precautionary measure. Launching at 13:20 from the boathouse the ILB arrived on scene at 13:50 and commenced a search of the area as determined by the coastguard. With nothing found, the lifeboat was then asked to carry out an additional search of an area 1.5 miles south-west of the original co-ordinates. Having completed this second search at 14:49, with nothing sighted, Humber Coastguard released the ILB to return to station. Arriving back at the boathouse at 15:04, the ILB was re-housed, re-fuelled and ready for service at 15:25.
Weather Cloudy Visibility Good Wind SW 2 Sea Calm
18 December 2016
09:00

Wells Lifeboat was diverted from a routine exercise at 09:00 to assist the 24' leisure fishing boat
Patsy Lou
which had suffered engine failure three miles north of Wells on passage to Grimsby with two persons on board. The lifeboat took her in tow at 09:18, arriving back in Wells and placing her on a mooring at 10:10. The lifeboat was recovered at the boathouse and re-housed, re-fueled and ready for service at 11:30.
Weather Part cloudy Visibility Good Wind WSW 2 Sea Slight
4 December 2016
21:12

Humber Coastguard paged for an immediate launch of the inshore lifeboat to assist in a search for people potentially in difficulty following the discovery of a forced entry to the beach slipway through a locked gate and tyre tracks leading into the sea. The ILB launched at 21.30 and commenced a search of the beach area and Holkham bay, with police, fire and coastguard also in attendance and searching on shore. The area was searched from Wells to Lady Anne's drive at Holkham but nothing conclusive was found. At 22.30 the ILB was stood down and was rehoused, refuelled and ready for service at 23.00
Weather Clear Visibility Good Wind SE 2 Sea Slight
Latest News
Shannon update
Fri 24 Feb 2017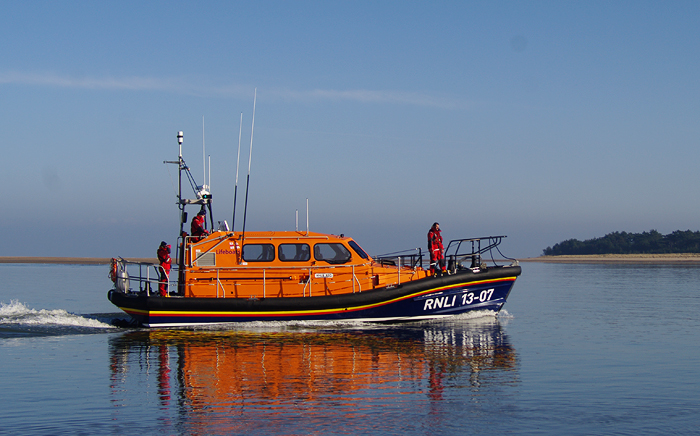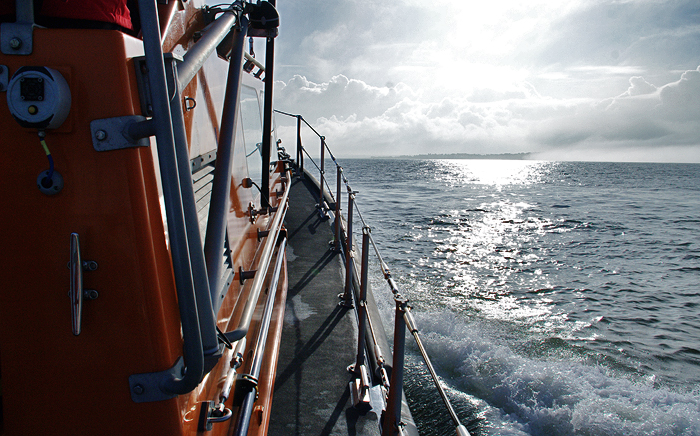 Relief Shannon-class lifeboat 13-07 Reg made a flying visit to Wells earlier this month while on passage from Skegness to Lowestoft, with a crew led by Lowestoft Coxswain John Fox. Volunteers from Wells crew were invited aboard to examine the boat and her equipment.
The lifeboat had been in Skegness to assist in crew training as the station changed over from its Mersey class 12-008 Lincolnshire Poacher to a new Shannon class boat. The new boat 13-17 Joel and April Grunnill arrived in Skegness on 28th January after a four day passage from Poole, and officially went into service as Skegness lifeboat last week.
Work continues in Wells with plans and preparation for a new boathouse to house our forthcoming Shannon lifeboat, with an environmental study into the new building having been completed.
Surge tide 13/1/17
Sun 15 Jan 2017
Surge tides and stormy conditions on Friday passed without major incident in Wells though there was more serious damage just along the coast at Cley nature reserve and Salthouse. As is usual for potential flood conditions, a volunteer skeleton crew stood by the lifeboats from the early hours of Friday morning and again from mid afternoon for the evening's larger tide in case the boats were required as the boathouse may get cut off. The doors to the boathouse are opened and pinned back to prevent damage and allow the boats to be launched if necessary, allowing the tide to wash through the building. Today's planned exercise was cancelled so the crew could help clear out sand and shingle that had been dumped by the tide through the boathall.