Welcome to Wells RNLI
Wells-next-the-Sea RNLI Lifeboat Station houses an all-weather lifeboat and an inshore lifeboat to save lives and assist with emergencies around Wells and off the North Norfolk coast. Manned by volunteer crews, the boats are ready to launch within minutes, 24 hours a day, every day of the year. This website will tell you more about the station and give you a taste of what we do and the traditions of the lifeboat service.
Recent Services
8 February 2020
14:19

The inshore lifeboat was paged after Wells Coastwatch reported four persons cut off by the incoming tide on a sandbar to the west side of Wells habour approaches. The ILB launched at 14:30, arriving on-scene at 14:35 and picking up four young ladies who by now were in water above their knees. The lifeboat returned with the casualties to the station at 14:43 where they were taken inside to warm up, some having very cold feet. They were then passed to local coastguard officers who took them back to their accommodation in town. The lifeboat was rehoused and ready again for service at 15:20.
Weather Part cloudy Visibility Good Wind SSW4 Sea Slight
8 January 2020
15:58

UK Coastguard paged the inshore lifeboat after receiving a 999 call from two persons who had become cut off by the tide while walking out past Stiffkey marshes. The ILB launched at 16:10 and proceeded out of the harbour towards Stiffkey. Sheringham and Wells coastguards were also tasked and established contact with the two persons and assisted in guiding the lifeboat to their position in rapidly fading light. The ILB picked the two persons up at 16:37 and made its way through the creeks to pass them to waiting coastguards at 16:42. No medical assistance was needed. The ILB was released to return to station and was rehoused and refueled and ready again for service by 17:30.
Weather Cloudy Visibility Good Wind WNW3 Sea Slight
Latest News
Gressenhall Social Club donation
Sun 2 Feb 2020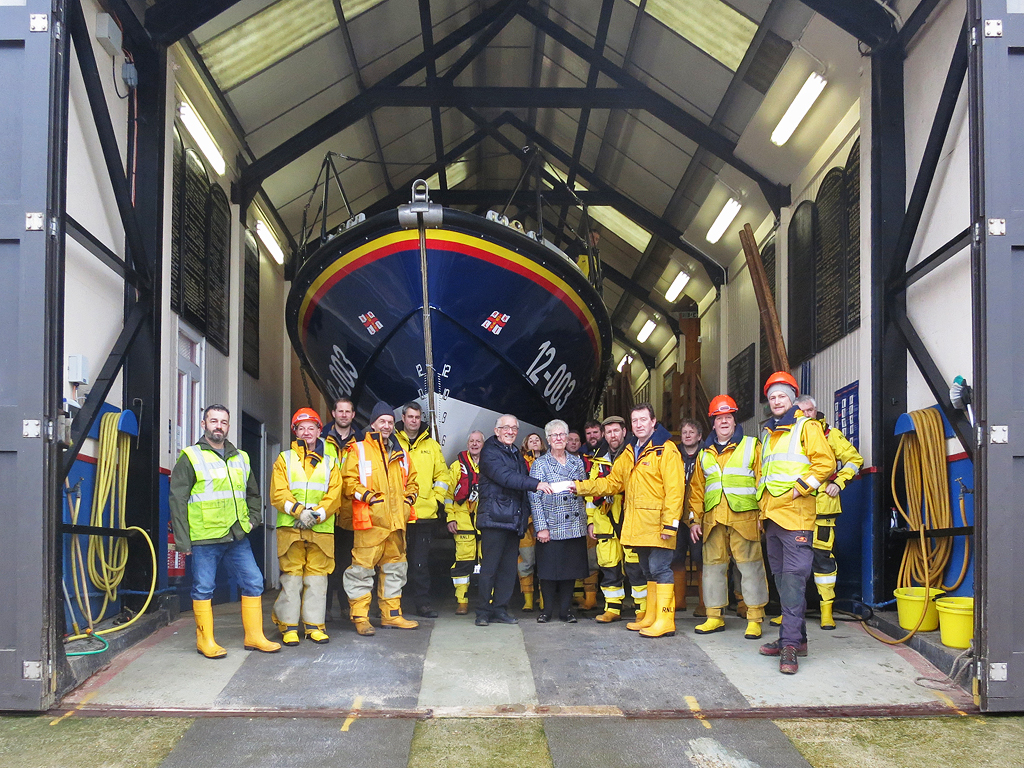 Our thanks to Gressenhall Social Club for once again raising money for the station through its popular Clairvoyance evenings. Mr and Mrs Gray from the club called in to the station at a Sunday practice launch to present a cheque for £675.50,
Farewell to Cromer Coxswain Ady Woods
Sun 2 Feb 2020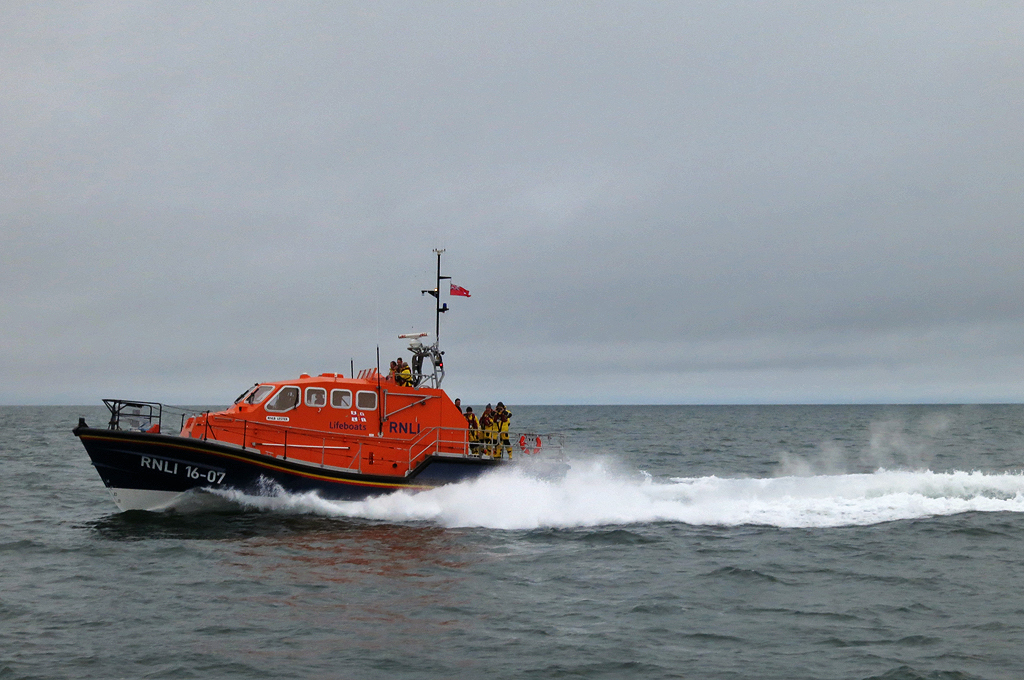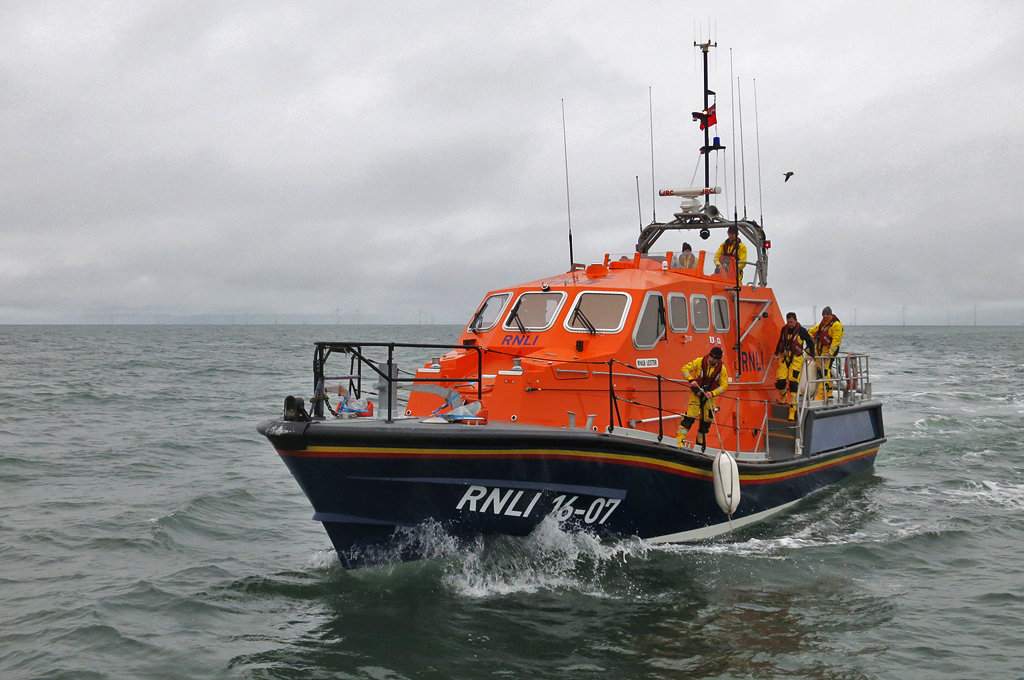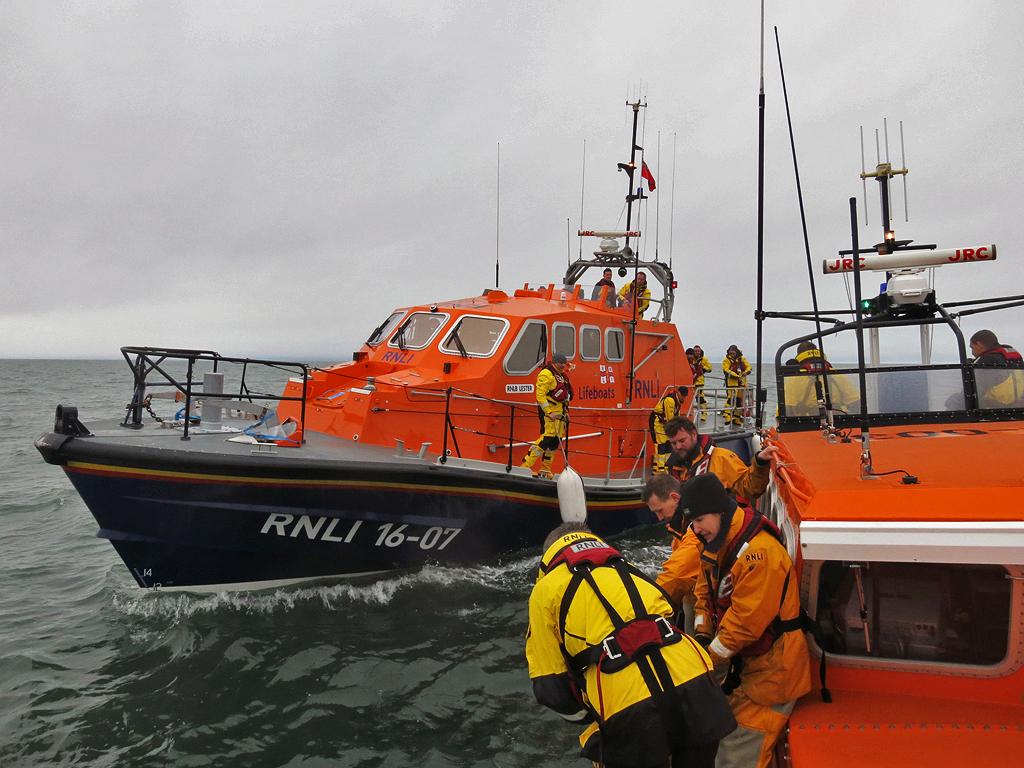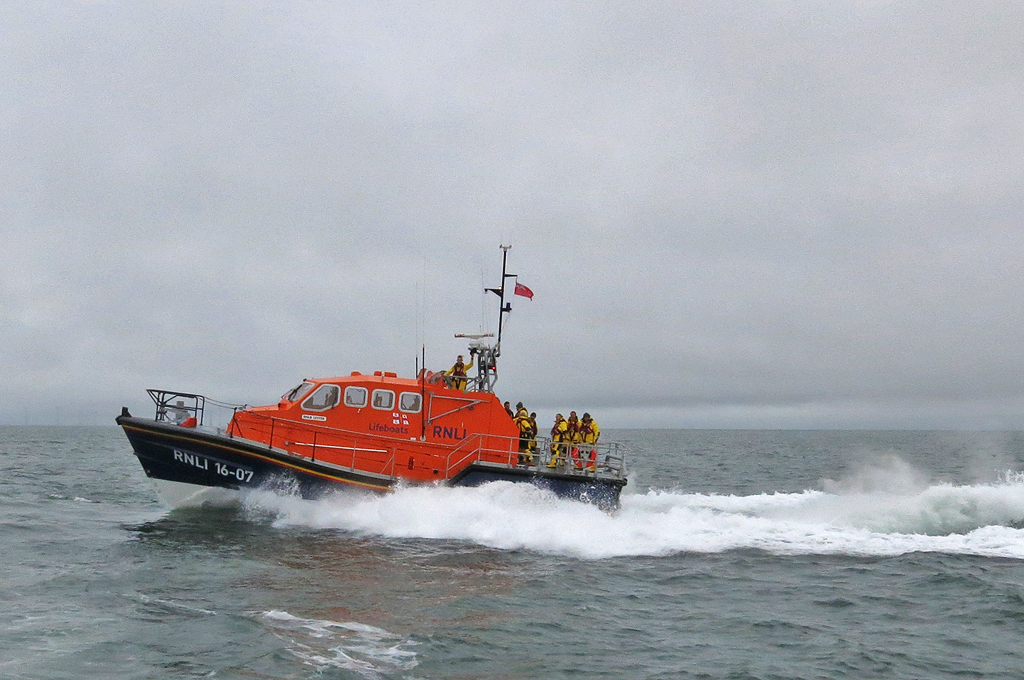 Wells lifeboat met up with Cromer lifeboat on the Docking Shoal, approximately 10 miles North of Wells, during Sunday's practice launch. This was partly to say farewell to long-standing Cromer volunteer Coxswain Ady Woods who is standing down after more than 30 years on the Cromer crew.
Ady joined Cromer lifeboat at 17, at first on the inshore lifeboat and later on the all-weather lifeboat. He took on the role of joint Coxswain with fellow crew -member Ady Barker in 2018.
All at Wells station would like to wish Ady all the best for the future.
Battle Of Heligoland Bight remembered
Wed 18 December 2019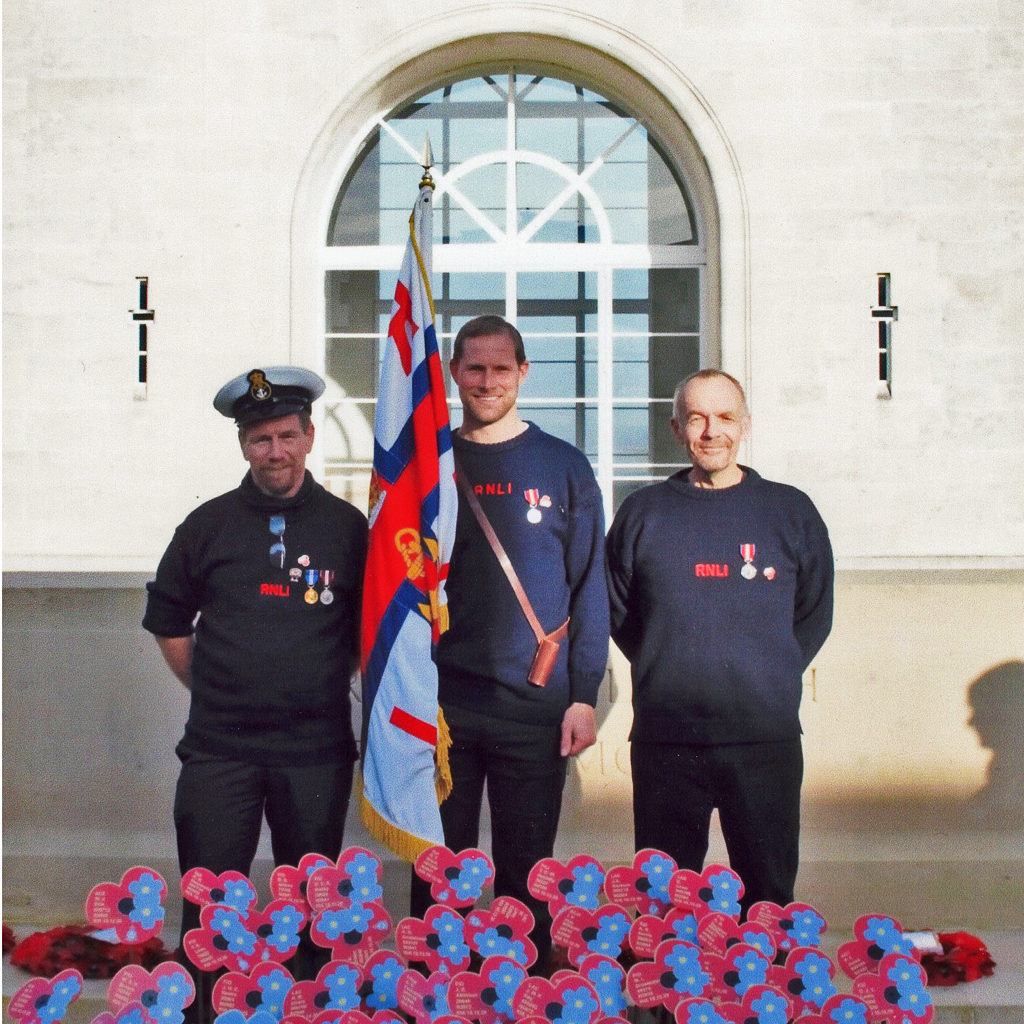 On 18 December 2019, a memorial service was held at the Air Forces Memorial at Runnymede to commemorate the 80th anniversary of the Air Battle of Heligoland Bight. This was the first named air battle of Word War II and took place on 18 December 1939. Twenty four RAF Wellington bombers were tasked with attacking shipping in the Heligoland Bight, in the north of Germany. Disastrously, 12 aircraft were shot down within an hour. Fifty-seven RAF aircrew and two German airmen lost their lives.
Two Wellington bombers, returning from the battle, came down off the Norfolk coast and the lifeboats from Wells, Cromer and Sheringham were launched to search for survivors without success.
Wells lifeboat was invited to take part in the memorial service and was represented by Coxswain Nicky King, Ray West, who is Deputy Head Launcher and station archivist, as well as crew member Kent Cooper. Kent's grandfather, William Cooper, was one of the crew that took part in the search on Wells lifeboat.