Wells-next-the-Sea RNLI Lifeboat Station houses an all-weather lifeboat and an inshore lifeboat to save lives and assist with emergencies around Wells and off the North Norfolk coast. Manned by volunteer crews, the boats are ready to launch within minutes, 24 hours a day, every day of the year. This website will tell you more about the station and give you a taste of what we do and the traditions of the lifeboat service.
26 October 2019
20:56

The 30' sailing charter/trip boat
Salford
with 7 passengers on-board had become stranded on a falling tide in Wells marshes near the top of Mo creek and a local 18' sailing dinghy
Leilah
had put out to bring the passengers ashore. Having picked up the passengers and made some of the way back, this vessel in turn got into difficulty and requested the assistance of the inshore lifeboat. Launching at 21:04 with four crew, the ILB picked its way up the rapidly ebbing Sluice creek to take the passengers off, handing them into the care of the local coastguard at Tug Boat Yard and leaving two crew members with the sailing dinghy. With the tide now mostly gone from Sluice creek, there was insufficient water for the lifeboat to make its way back up. The two crew members bow-hauled the sailing dinghy and her crew back towards Wells, eventually meeting up with a third member of the ILB crew who walked up the creek. The dinghy was then escorted back to Tug Boat Yard. The inshore lifeboat returned to station at 22:22 and was rehoused. The skipper of the
Salford
remained on-board overnight with the intention of bringing the boat back to Wells on the morning tide
Weather Part cloudy Visibility Good Wind SW2 Sea Slight
Latest News
Volunteer Recruitment Day - 19th October 2019
Mon 7 Oct 2019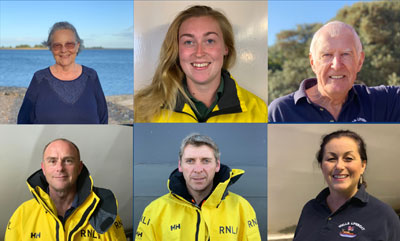 Could you join our team? We are looking for new volunteers to join us and are seeking people with a wide range of skills and backgrounds. If you think we could be for you and you have time to give, we want to hear from you.
We are seeking operational crew for the lifeboat, shore crew to help launch and recover our lifeboats, deputy launching authorities, fundraisers, a deputy press officer and a community safety officer, to promote safety awareness in the community.
Soon we'll be taking delivery of a new, state of the art Shannon class lifeboat, which will require additional volunteers to keep her in tip-top condition like our current Mersey Class which has been in service for nearly thirty years and has been involved in more than 150 rescues. There will also be a new boathouse which, apart from housing the lifeboats, will have upgraded facilities for the crew and shore helpers and will allow greater access to the public. It will have its own gift shop which will require additional staff to run it.
On Saturday, 19 October, we are holding a Volunteer Recruitment Event at the current boathouse at the bottom of Beach Road, Wells-next-the-Sea between 11am and 3pm. Come down and see us, talk to people like you and meet our volunteers... we can tell you what's involved and what's to be gained by becoming part of the Wells Lifeboat Station RNLI family. You don't have to live in Wells' we have a number of volunteers who live quite a long way from the station.
It would help if we know you are coming as we have limited free parking available for the event. Email us at wells@rnli.org.uk or ring the boathouse on 01328 710230 and we will look forward to welcoming you.
150th anniversary vellum
Wed 17 Jul 2019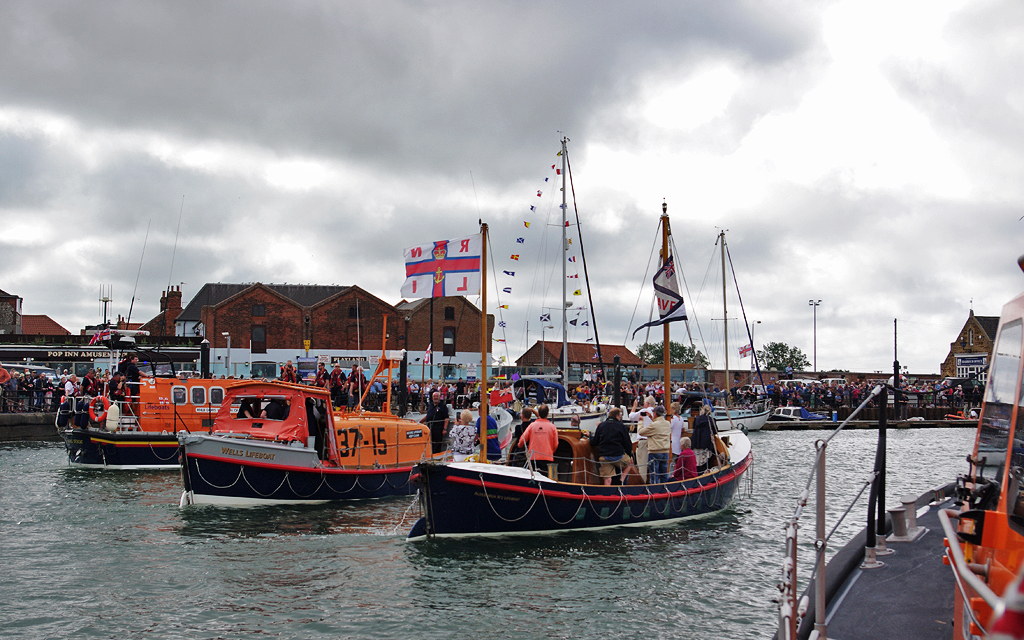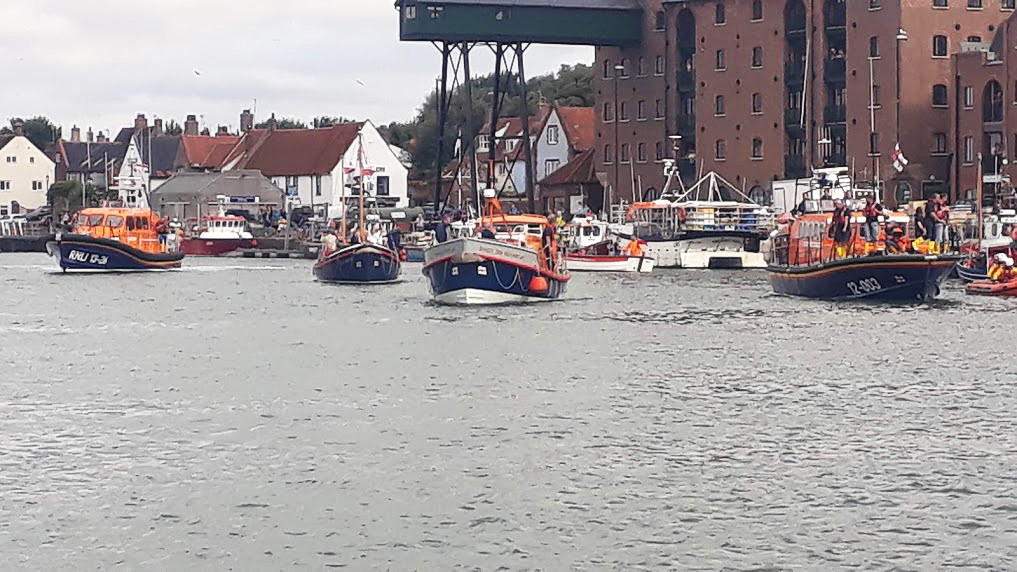 Wells Lifeboat celebrated its 150th anniversary as an RNLI station this week. The town has had a lifeboat from around 1830 and became a Royal National Lifeboat Institution station in 1869, with a new lifeboat, the Eliza Adams being delivered by rail and placed on service in a new specially built boathouse on the quay (now used as the harbour office).
The anniversary was marked by a week of events including a week-long exhibition at the Maltings and a presentation and open day on 13th July. The RNLI's Chief Executive Mark Dowie presented the station with a 150th anniversary vellum at a presentaion at the boathouse at which award for long serving volunteers were also presented... 20 years for Deputy Second Coxswain Martin Emerson, 40 years for crew member Fred Whitaker and 50 years for tractor driver and emergency mechanic Phil Eaglen.
Phil joined the crew age 17 in 1967 as a launcher and became, for many years, the station's head tractor driver as well as an emergency mechanic on the all-weather lifeboat crew. Now past normal retirement age, he continues to be a mainstay of the station assisting the full-time Coxswain/mechanic during the transition to the new Shannon station.
After the presentation, the station was opened to the public with historic lifeboats on view on the outer harbour pontoons. These were joined by a relief Shannon class lifeboat (the type that will soon serve at Wells) kindly brought round from Lowestoft by Lowestoft Coxswain John Fox and a volunteer crew.
Five lifeboats, spanning some 78 years, then sailed together up to the quay... the current station Mersey class Doris M Mann of Ampthill and our inshore lifeboat Peter Wilcox, single-screw Liverpool class Lucy Lavers, built 1940 and a Dunkirk Little Ship which served on relief at Wells in 1963/64, Oakley class Enerst Tom Neathercoat Wells station boat from 1965 to 1990 and the Shannon 13-26 John Metters. A large crowd greeted the boats at the quay with a commentary kindly provided by the harbour master.