Wells Lifeboat News
 Back   Next 
Lifeguards to return to Wells beach
Fri 19 Jun 2020
RNLI lifeguards will be on duty on Wells beach every day from 10am to 6pm from 4th July until 6th September.
The RNLI's lifeguarding service has been restricted this year by the coronavirus pandemic and lockdown which has meant the institution was unable to organise and train properly prior to the normal lifeguarding season. Huge efforts have been made since restrictions were eased to provide cover at selected beaches and Wells will now be covered over the summer holiday.
An important message for visitors to Wells-next-the-Sea
Thr 14 May 2020
As we approach the first weekend since changes to government advice on travel and exercise in the UK, RNLI Wells Lifeboat Station is issuing safety advice to those who might be planning to visit the north Norfolk coast.
Nobody would choose to put themselves at risk but sometimes, lack of awareness of local risks or of their own capabilities can lead visitors to a situation where they need help from the emergency services and others.
The RNLI's aim is to maintain an effective lifesaving service throughout the Covid 19 pandemic but it must be acknowledged that any call on our services will cause our crew to take extra risks because they may not be able to maintain safe distancing while trying to save a life or offer assistance to a casualty.
We therefore want to take all possible steps to ensure that the public are aware of the risks to themselves and to others and are also aware of the ways to keep safe around our shores. As the "lockdown" is eased, many will be keen to drive to the coast to exercise more freely. This increased activity will bring an increase in the possibility of something unexpectedly going wrong.
Our message to anyone who may choose to come to the north Norfolk coast this weekend is:
Please be vigilant and aware, take extra care to stay safe, not just for your own safety but also for the safety of our lifeboat crews
Be aware that the tide will be coming in from lunchtime on Saturday and Sunday and there is a risk of being cut off by the tide if walking near the water's edge
Please seek local advice before walking anywhere you are not sure of
High water times for Wells are at 3.20pm on Saturday and 4.20pm on Sunday
Some harbours will be open for leisure boating activity. Wells Harbour has issued 'Key Points to Harbour use' on their website www.wellsharbour.co.uk and will update this regularly; please read before making plans. If you are thinking of going afloat, please inform others of your intentions in advance, make sure that your boat is in good, safe working order and do not venture beyond the safe limits of your vessel's capabilities and the experience of you and your crew – At all times be extra cautious.
In any coastal emergency dial 999 or 112 and ask for the Coastguard.
The crews of the Wells lifeboats thank you for helping them to keep everyone safe.
COVID-19 restrictions
Mon 23 Mar 2020
Wells lifeboats and the lifeboat crew remain operational and ready to launch if needed during the Corona Virus outbreak. However, training and exercises and all public visits to the lifeboat station are cancelled.
Beth Foot Forward arrives in Wells
Tue 10 Mar 2020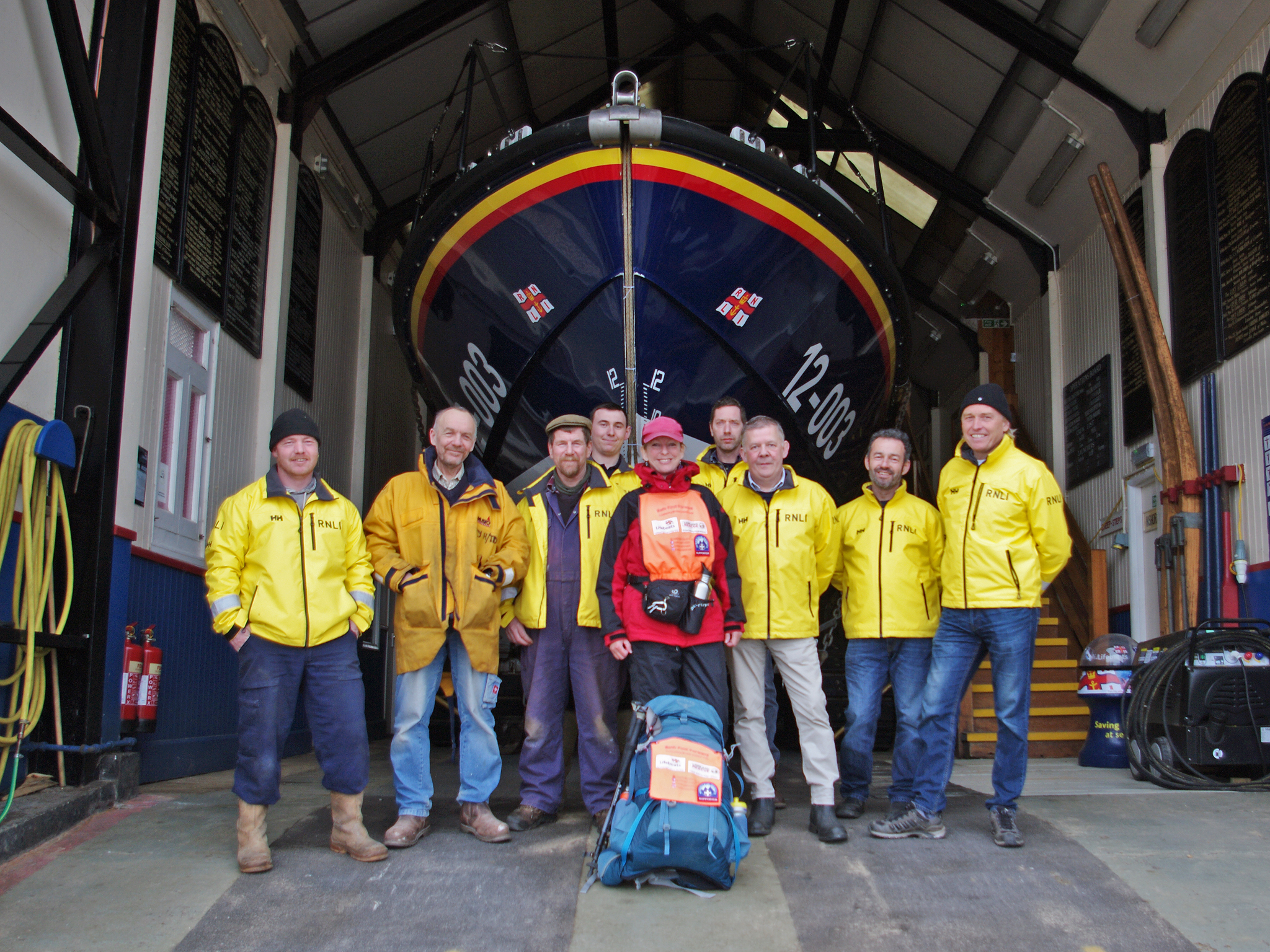 We were delighted to offer UK charity walker Beth Wickes a cup of tea and some encouragement at the boathouse when she popped in while walking the coast path from Titchwell to Wells today.
Beth has been walking much of the UK coast along with some inland long distance paths for the past year and a half, having started from Tower lifeboat station in London in October 2018. She is walking unsupported, taking some time out to explore Britain after graduating from Uni and raising some money for the RNLI, Lowland Search and Rescue and Mountain Rescue teams on her way.
Beth is currently completing her adventure by following the coast down through Norfolk, Suffolk and Essex before aiming to finish in London in May by which time she will have walked around 3500 miles. She is setting off for Cley next and then plans to arrive in Cromer on 12th.
You can follow Beth's progress at her website at www.bethfootforward.co.uk, on Twitter @BethFootForward and Facebook.
Donations to Beth's charities can be made on her Virgin Money Giving page
Titchwell Manor and The Quay B&B in Wells kindly donated a night's stay for Beth on this leg of her walk and she would be pleased to hear from anyone who might provide overnight accommodation further along her route.
Farewell to Cromer Coxswain Ady Woods
Sun 2 Feb 2020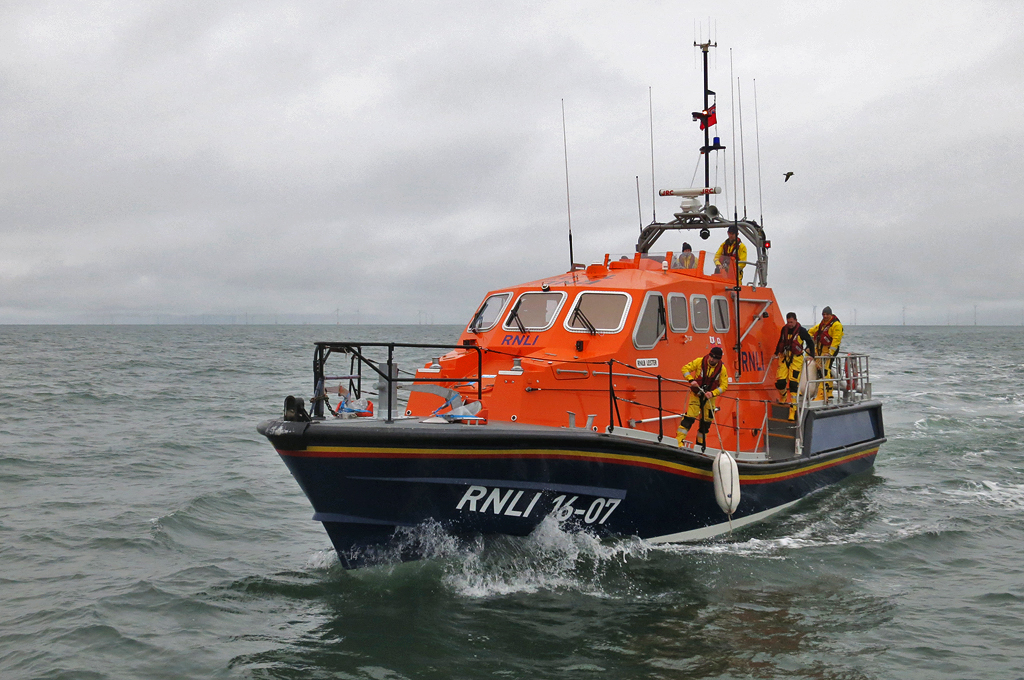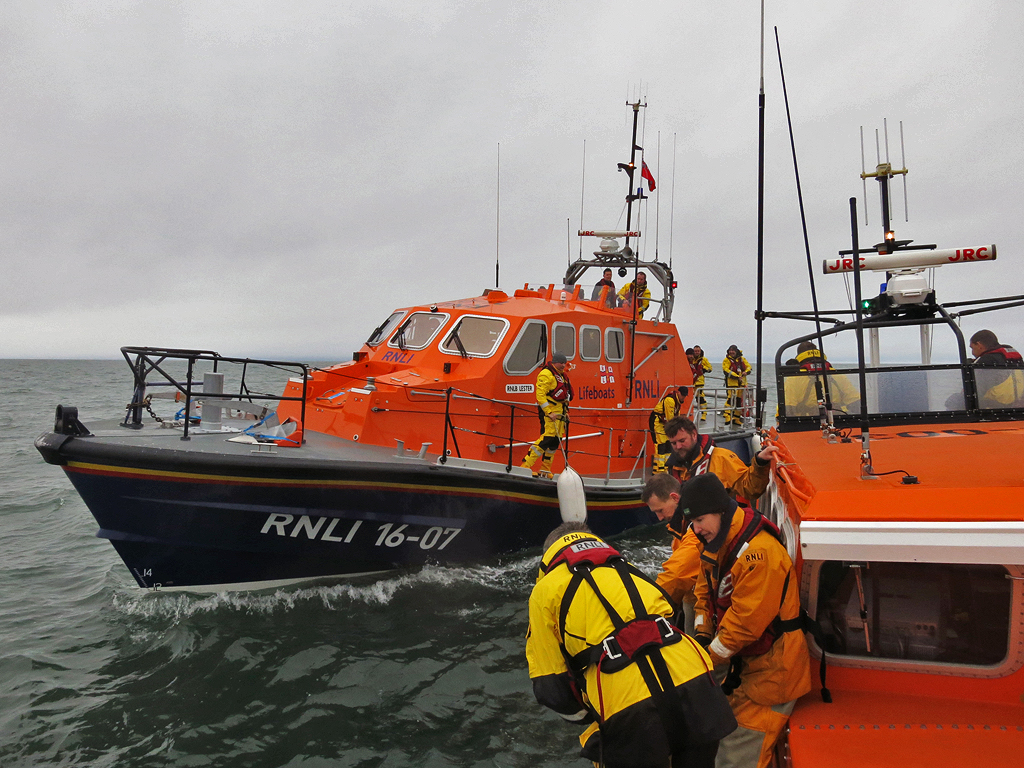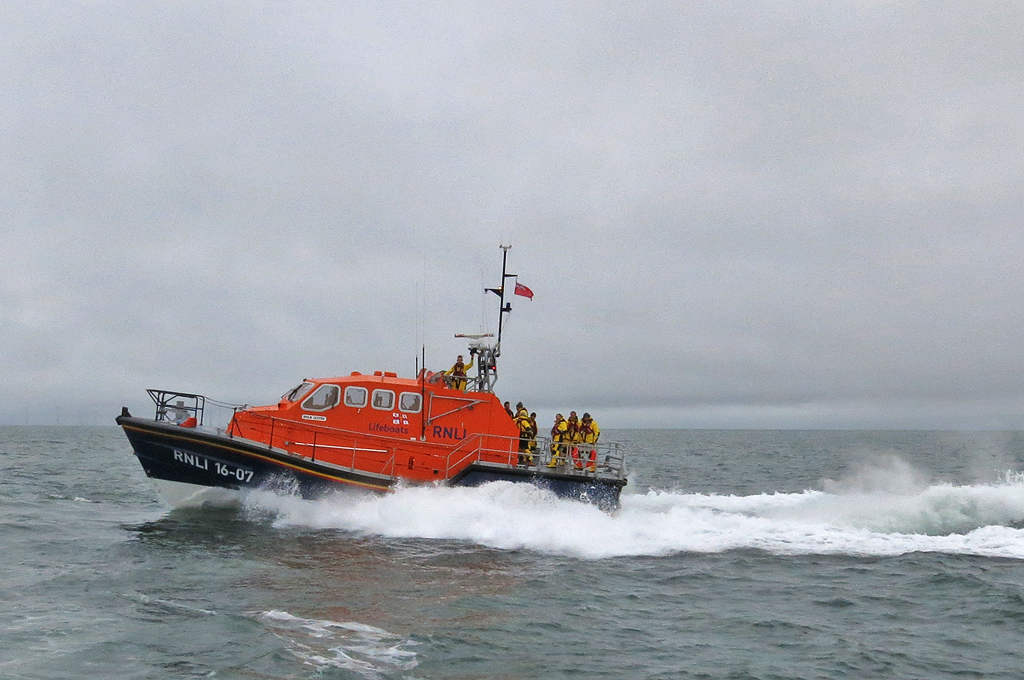 Wells lifeboat met up with Cromer lifeboat on the Docking Shoal, approximately 10 miles North of Wells, during Sunday's practice launch. This was partly to say farewell to long-standing Cromer volunteer Coxswain Ady Woods who is standing down after more than 30 years on the Cromer crew.
Ady joined Cromer lifeboat at 17, at first on the inshore lifeboat and later on the all-weather lifeboat. He took on the role of joint Coxswain with fellow crew -member Ady Barker in 2018.
All at Wells station would like to wish Ady all the best for the future.
Gressenhall Social Club donation
Sun 2 Feb 2020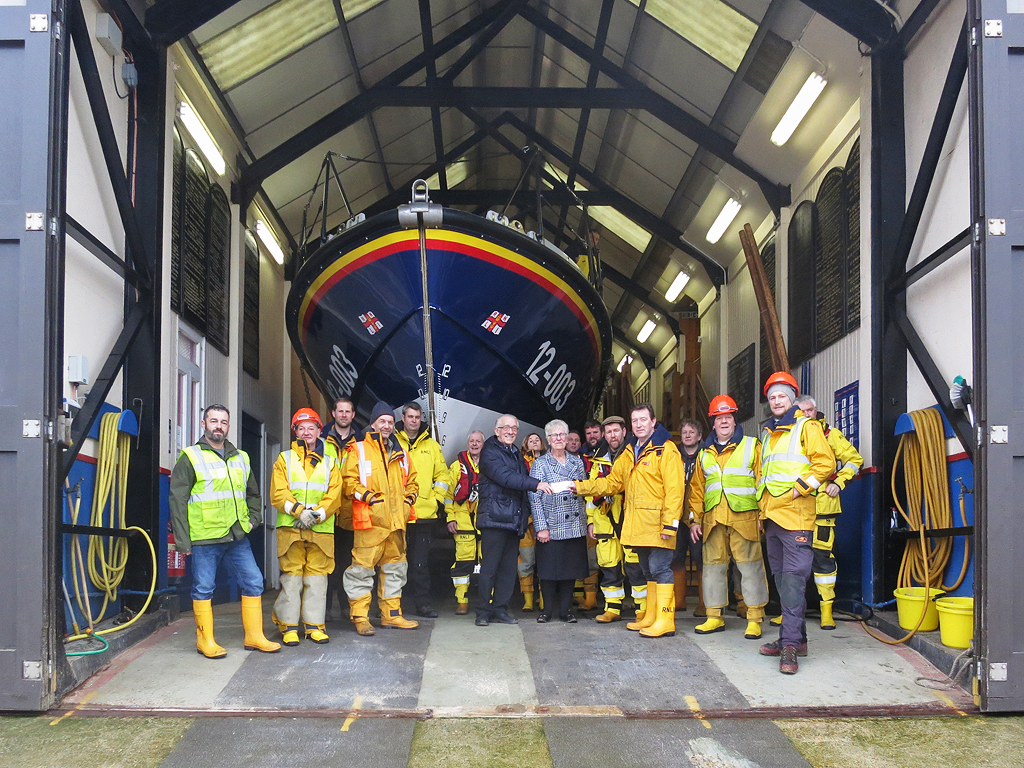 Our thanks to Gressenhall Social Club for once again raising money for the station through its popular Clairvoyance evenings. Mr and Mrs Gray from the club called in to the station at a Sunday practice launch to present a cheque for £675.50,
Battle Of Heligoland Bight remembered
Wed 18 December 2019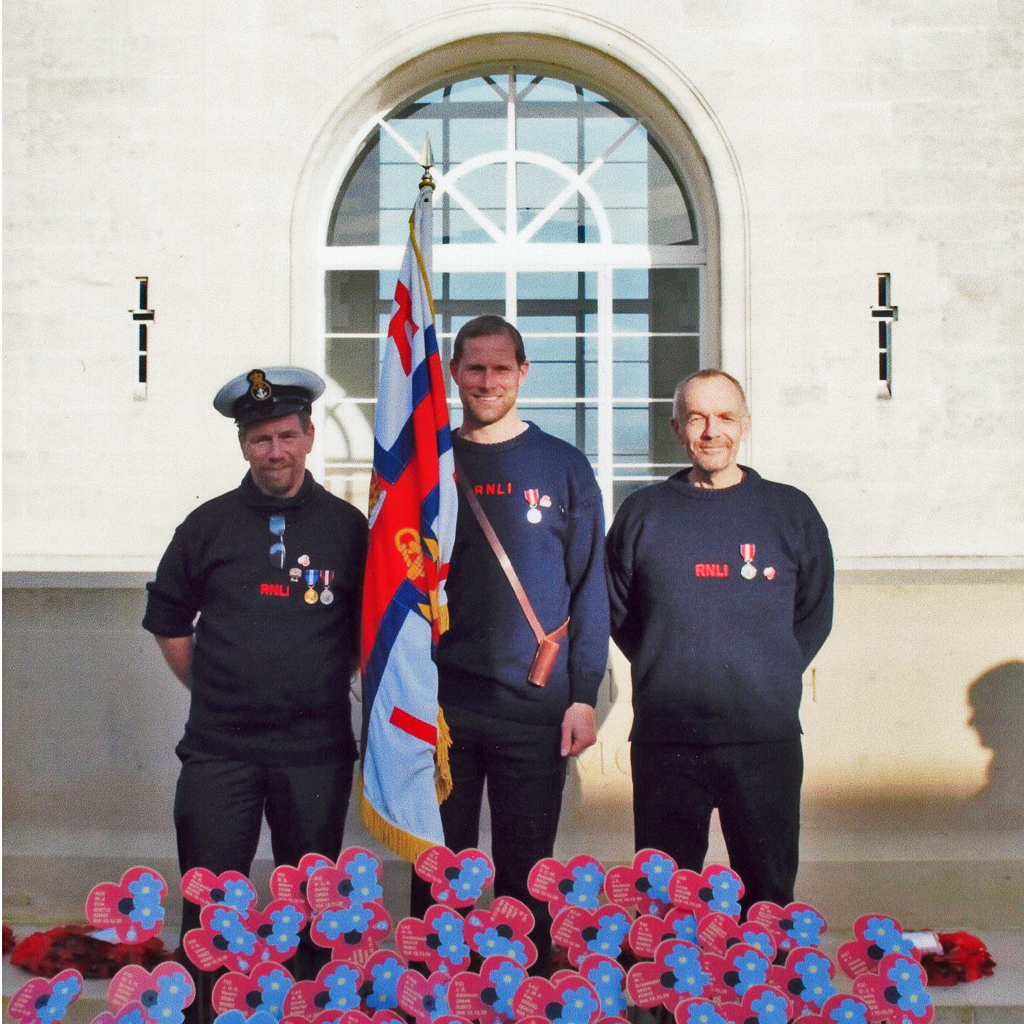 On 18 December 2019, a memorial service was held at the Air Forces Memorial at Runnymede to commemorate the 80th anniversary of the Air Battle of Heligoland Bight. This was the first named air battle of Word War II and took place on 18 December 1939. Twenty four RAF Wellington bombers were tasked with attacking shipping in the Heligoland Bight, in the north of Germany. Disastrously, 12 aircraft were shot down within an hour. Fifty-seven RAF aircrew and two German airmen lost their lives.
Two Wellington bombers, returning from the battle, came down off the Norfolk coast and the lifeboats from Wells, Cromer and Sheringham were launched to search for survivors without success.
Wells lifeboat was invited to take part in the memorial service and was represented by Coxswain Nicky King, Ray West, who is Deputy Head Launcher and station archivist, as well as crew member Kent Cooper. Kent's grandfather, William Cooper, was one of the crew that took part in the search on Wells lifeboat.
Volunteer Recruitment Day - 19th October 2019
Mon 7 Oct 2019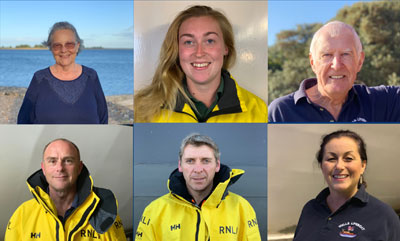 Could you join our team? We are looking for new volunteers to join us and are seeking people with a wide range of skills and backgrounds. If you think we could be for you and you have time to give, we want to hear from you.
We are seeking operational crew for the lifeboat, shore crew to help launch and recover our lifeboats, deputy launching authorities, fundraisers, a deputy press officer and a community safety officer, to promote safety awareness in the community.
Soon we'll be taking delivery of a new, state of the art Shannon class lifeboat, which will require additional volunteers to keep her in tip-top condition like our current Mersey Class which has been in service for nearly thirty years and has been involved in more than 150 rescues. There will also be a new boathouse which, apart from housing the lifeboats, will have upgraded facilities for the crew and shore helpers and will allow greater access to the public. It will have its own gift shop which will require additional staff to run it.
On Saturday, 19 October, we are holding a Volunteer Recruitment Event at the current boathouse at the bottom of Beach Road, Wells-next-the-Sea between 11am and 3pm. Come down and see us, talk to people like you and meet our volunteers... we can tell you what's involved and what's to be gained by becoming part of the Wells Lifeboat Station RNLI family. You don't have to live in Wells' we have a number of volunteers who live quite a long way from the station.
It would help if we know you are coming as we have limited free parking available for the event. Email us at wells@rnli.org.uk or ring the boathouse on 01328 710230 and we will look forward to welcoming you.